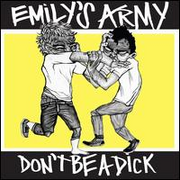 Don't Be A Dick
is the first studio album by Emily's Army. It was released in 2011 by Adeline Records.
Cover Art
Edit
The front cover features two teenage boys fighting. The back cover has the track listing written in a thick Sharpie on masking tape and then taped onto a wall covered in different assortments of duck tape. The CD is yellow with Emily's Army and Don't Be A Dick written in the same font. Underneath the CD is a picture of the band in their studio. The insert is just one page. The contains an alien-like, yet Shrek-like face with their signature television logo. All of the things that are written around it are things that Max Becker said.
Track Listing
Edit
Max Becker's Quotes
Edit
"No one touches my shoulder, that's why my face looks so good."
"I want an Italian sausage with my meaty balls."
"I'm going to the Red Beach."
"I'm rubbing root beer all over myself."
"I'm the better person."
"I'm an expert licker."
"I made the appointment."
"Does the back of my head really look that weird?"
"Elvis Costello: That's who I bate my vocals off of."
"I fricken' love Phil Collins."
"I want like a boob job."
"The cop is on my balls."
"It's not coverup; it's sunscreen."
"Dude. Mexico."
"Disney movies are too much for me. I get way too into my emotions. Last night I fell in love with an animated character."